We work on the premise that Google is not at all like a human brain and therefore it can't can make human based decisions or have human thoughts.
So when it comes to ranking on the first page of Google you have to think in terms of algorithms. An algorithm is a collection of automated rules a computer follows to predict the likelihood of some outcome.
In regards to SEO, the present set of algorithms Google uses will determine many things. And one is the likelihood of a website using spam and fraud to get high search engine rankings. These algorithms can't figure everything out as the unscrupulous and cleverness of some individuals do for a short time beat the system. However, search engines are constantly being updated and do an excellent job of blocking the latest black hat efforts.
So when it comes to getting your website ranked highly. You need to think of an algorithm being simply a set of rules or processes followed in complex calculations especially by a computer.
It's a bit like a recipe.
There is a series of steps to arrive at the end product.
In order for there to be a final loaf of bread there has to be certain ingredients mixed and cooked a certain way.
It is the same with what we do as a seo digital agency.
The Google machine doesn't think, so we understand and know that your first page ranking is determined through probability based algorithms. It's all to do with the recipe.
We have identified that there are five main ingredients, when mixed right, produce the results we want for any website.
What we seek to rank for is not that important, it is how we using search engine optimisation bake the SEO ingredients that becomes important.
Now SEO is a changing set of baking conditions because the Google search engine is continually tinkering with the algorithms. To produce better search results for the people who search on Google.
Over many years and having thousands of test sites available to us all around the globe. As search engine specialists in Wakefield, we can monitor and understand any changes Google makes.
So we in turn can adapt our approach for our clients ensuring that their campaigns will be successful.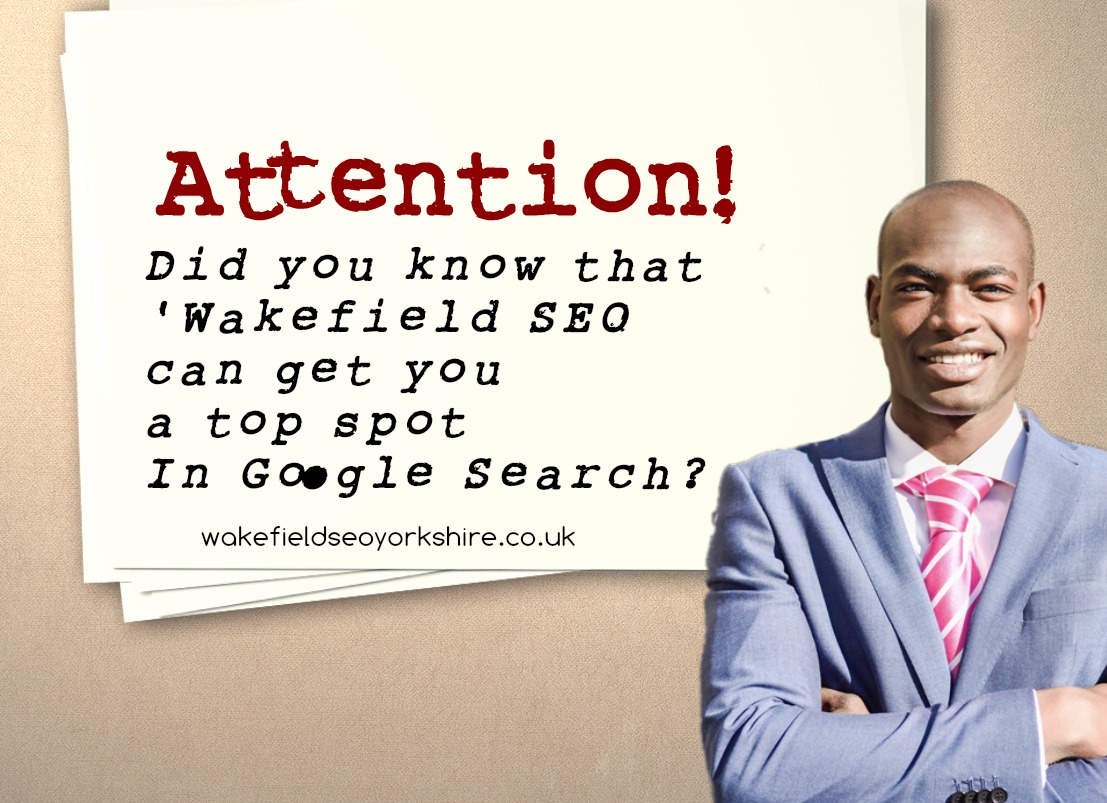 Will Search Engine Optimisation Work For Your Wakefield Business?
Regardless of where your business is located in the Wakefield district. Or if you are seeking to reach new customers/clients/patients within the area we can help. From Ackworth, Altofts, Castleford, Crigglestone, Crofton, Featherstone, Hemsworth, Horbury, Knottingley, Middlestown, Normanton, Ossett, Pontefract, South Elmsall, South Kirkby, Stanley, Upton, Woolley, Wrenthorpe to city centre. We will help you get more visibility on the internet leading to more bottom line profit.
Google And Our Agency
Google is an advertising company that provides search services so that it can sell advertising. At the top and bottom of just about any search query. There are adverts. Only about 10 per cent of people will click on paid ads. And from this Goole has built it's $160+ billion profit in 2019.
And in order to increase that profit Google plays around little by little with the algorithms. Because Google needs to return exactly the right answers to people search queries. So people will continue to see the ads and they know some will click.
The role of our consultancy is to help businesses in Yorkshire and beyond profit from the 90% of FREE search traffic by ranking them in the organic free results.
Our role is to be up to any changes so that our clients enjoy prolonged top search engine rankings for very profitable keyword phrases.
Specific Keyword Optimization
Our mission on behalf of our clients is to rank on the first page of Google for any given keyword in a time frame of between 3 to 6 months. Sometimes it's quicker or longer than that. As this depends on the competition for the keyword phrase and the financial spend of the client.
Once on the first page the next aim is to get to the top three and then number one.

We can't guarantee a time frame because there are just too many variables that are changing all the time. But we do know what does work over time.
One is to optimise your website.
To optimise the visibility of your website involves using different tactics. These include keyword phrase choice and placement. Together correct back-linking. We understand the Google recipe, the blueprint and understand how when someone is looking for what you do. We can make sure that they find you and not one of your competitors.
Choosing The Best Specialist Consultant
Personal SEO Plan HERE
When it comes to selecting the right expert, you have to be very cautious as to which company you ultimately decide to trust. Because so much new business for your business is to be had by using the right search engine optimisation.
However, time and your competitors are always working to spoil your efforts to get seen in the organic search results.
If you make the wrong decision.
Each day that goes by your competition is gobbling up your potential customers and taking away your increased income.
That's why it's essential for you to choose the right Search Engine Optimisation company for you.
Everyone will promise the moon but most will leave you eating dirt or only claiming a small percentage of the increased profit you could have had.
Make certain when deciding on which company to use that they offer a month by month arrangement. So if things don't work out, for whatever reason, you can walk away without having some big financial contract around your neck.
Lots of companies when doing optimisation have the same 'limited' back linking opportunities. So this means that there is not a lot of difference between them. It stands to reason that if you simply use the same back linking tactics as all the other SEO services, you won't have any edge.
What marks our SEO Wakefield Agency apart, is as part of a team of world renowned SEO EXPERTS, we have access to an exclusive proprietary back linking asset. We link to thousands and thousands of first class relevant internet properties. That gives our clients the much sought after Google seal of approval.
There is no question that WSEOY can help you.
Through the process of optimising your website so it will show up on the first page of the organic, or un-paid, results. When you show up on the first page or at the top, when people are looking for what you do. This will give your business greater exposure, leading to more sales and profit.
With our help you can use a simple keyword phrase and turn it into a sales funnel that will generate long-term success, for your business. So start making real positive changes to your marketing by improving your search engine optimisation. We at seo Wakefield can improve your business search engine ranking. Let's work together.
Watch this video and read through the page.
If you want to be #1 in the real Google search engine,
GET YOUR SEO PLAN HERE to start things off.