Here is a list of the top 10 search engines in 2020, ranked by popularity.
Google
Bing
Yahoo
Baidu
Yandex
DuckDuckGo
Ask.com
Ecosia
Aol.com
Internet Archive

So you need to be clear with your optimisation consultant as to which search engines you want to rank well in. Because each search engine has a slightly different set of criteria when it comes to ranking a website in the search results.
We focus on GOOGLE and here is why.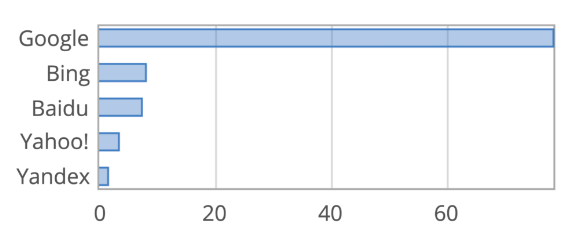 The picture above illustrates Google dominance in the search engine sector holding a huge 92%+ market share.
Bing in second place only has around 8 per cent which is surprising for a Microsoft business.
Baidu dominates the search engine sector in China with over 74% market share. So if you want to be seen in the Chinese search engine results you need to have a SEO expert in Chinese search engines. Who can adhere to the strict censorship imposed by the government.
If you want to rank in the search engines Russia than Yandex is the one to go with as it commands 55 per cent of the Russian search results.
So you need to be clear as to which search engine you want to rank well in.
As a consultant I focus entirely on Google. It's the biggest and hardest to rank for but well worth the effort for my clients.
So search engine optimisation, for me, is the art of getting Google to love my clients websites.
This is done by arranging areas on the clients website and arranging external factors to give a big thumbs up to Google about the website.
In my opinion you judge a good SEO expert consultant by the results not the promises.

When you visit any Search Engine Optimisation agency website or talk to them in person they all say the same thing.
And the sad reality is that often the promises don't match the results.
Lots of agencies have BIG FEES and long contracts. I prefer fair fees and no contracts because if I don't deliver. Then you should be free to walk away. Shouldn't you!

Now let's look at why an SEO Consultant is so important for any business.


Imagine, you're in a crowd of people and you are wearing a red scarf. There are thousands, no millions. And only a comparative few are wearing red scarves.
And someone is looking for you because they want to give someone with a red scarf a million pounds.
How can you arrange things so they give you the million pounds?
This is in essence what SEO or search engine optimisation is.
Just consider how a search engine works.
Someone taps into Google on their smartphone or computer that they want to buy the best red scarf. The search engines role is to produce results. from the 2 billion websites in existence, that best match the query. And to do it in as fast a time as possible.
Now not all 2 billion websites are active but at least 400 million are. And these are getting added to every minute. By the time you've read this then another 1500 websites will have been added to the index. Some of them selling red scarves.
So as the search engines search, the role of a seo consultant is to make sure that your red scarf is the one that is noticed by Google and presented as a result.
I've just done a search for best red scarf on Google and found that there are 137 million results on Red Scarfs. And these get narrowed down to 8 results on the first page of Google.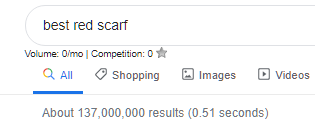 The folk who are ranking on the first page are happy because they'll be making money.


The top 3 will be happier because they are making more money than the rest. And the top result will be laughing all the way to the bank. Simply because people are conditioned to think in a list of things that the top one is the best.
Your web site is the face of your business on the web. And it's in crowd of millions that's growing every day. The problem is that most websites have been built by web designers who focus on what it looks like. And there are millions of stunning websites that no one sees. As they are lost in the huge crowd.
As an SEO consultancy we look at websites from a search engines point of view. Does it stand out, is it shouting and waving, screaming … PICK ME!
Every day there are people looking online for what your business does. They will type into that little search box and in a few seconds the list on the first page will appear. And from this list the searcher will make their buying decision.
Which business will they see ... Yours or your competitors?
Who will they give their money to … You or your competitor?
This is why you need a good optimisation specialist SEO consultant in Wakefield working on your behalf.